Mission & History
Our mission at The Emergency Assistance Center is to provide food, clothing, personal hygiene items and seasonal support for our Northern Summit County neighbors in need. Our goal at TEAC is to give every hungry neighbor in our community enough food to feed themselves and their family members, and to provide the other essential needs of clothing and hygiene, in an atmosphere of dignity, respect and fairness.

The Emergency Assistance Center was founded in 1992 by a single mother of four who was struggling to feed her family and who knew many other families in the area dealing with similar circumstances. Our center began by serving fewer than 70 people a month and has grown steadily over more than 25 years. We now serve approximately 900 individuals a month.

TEAC has expanded to include many seasonal support programs, including: extra food for Thanksgiving, Christmas and Easter holiday meals; Christmas gift shopping through Christmas Lane; Easter baskets; and a Back-to-School Fest for school supplies.

We are proud partner with the Twinsburg City Schools in Paws on Child Hunger, a school backpack program that provides weekend meals to eligible Twinsburg students.

The Emergency Assistance Center became a "Choice Pantry" in 2012 when Joyce Hunt became our Executive Director, and our clients now choose exactly the foods they want to take home to their families.
We are now, as we have been since our first day of operation, so thankful for the time and talent of our incredibly devoted crew of volunteers, the caring and capable leadership of our Board of Directors, and the unending financial and material support of our amazingly generous community!


Who We Are
Board of Trustees & Executive Director
Front row: Sandy Larry, Joyce Hunt (Executive Director), Valerie Padd.
Back row: Randy Hyde (Chairman), Janet Meyer (Secretary), Paul Fike, John Jones (Treasurer) and Michael Wolfe.
Staff Members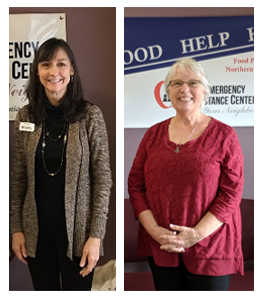 Kim Myers and Jan Bittner. Not pictured Tina Pudelski, Karen Genko.